Er wordt al geruime tijd gesproken over de vervaging van de scheidslijnen tussen de verschillende mediakanalen. Integratie tussen drukwerk met het internet (zie alle kranten) of televisie met het internet (bijvoorbeeld uitzending gemist) komen steeds vaker voor.
Wat ook al geruime tijd bestaat, maar nog weinig wordt toegepast, is het gebruik van filmpjes op websites. In een video kan meer invloed worden uitgeoefend op de interpretatie van de boodschap door de ontvanger. Een plaatje zegt immers meer dan 1000 woorden. Op deze manier kan je een "bounce" van 5 seconden omzetten naar diepgaande gebruikerservaring van meerdere minuten. Ook de onderstaande cijfers laten duidelijk zien dat online video's waarde toevoegen voor u en uw bezoeker:
– 16 % van Amerikaanse consumenten bekijkt productvideo's op de retailer website. Van deze bezoekers vond 64% deze video's erg nuttig (Bron: Forrester.com)
– Voor hotelpromoties kunnen video rapportages een conversiestijging van wel 120% met zich meebrengen. Dit cijfer is afhankelijk van de kwaliteit van de video. (Bron: e-consultancy)
– Het is bewezen dat online sales tot 55% stijgen als online video's worden ingezet (Bron: Articlesbase.com)
Vanuit een e-Commerce perspectief kunnen we voor het gemak onderscheid maken tussen drie soorten video's:
– Branded video: Hierin probeert het bedrijf de merkbeleving en de dienstverlening uit te leggen.
– Product video: Dit zijn verkoopondersteunende video's waarin het product centraal staat en het doel is om de product verkoop te verhogen.
– User generated video: Dit zijn filmpjes die gebruikers van het product kunnen uploaden om hun beleving van het product of winkel te vertellen.
Branded video's
Als branded video in Nederland neem ik als voorbeeld Tom Coronel die dit toepast bij onder anderen barbequeshop.nl, koffiediscounter.nl en plasma-discounter.nl (zie filmpjes achter de links). Hij maakt gebruik van zijn ervaring als presentator  om een gezicht te geven aan zijn webwinkels. Met termen als "alles altijd op voorraad", "ook een fysieke winkel", "goede service" weet hij het vertrouwen te wekken dat ook wordt beloond met onder andere een mooie notering in de Twinkel 100. Dit is een voorbeeld waarvoor deze vorm van rich media succesvol wordt ingezet.
Ook een goed voorbeeld is Wijnbeurs.nl die gebruik maakt van branded video om aan te tonen dat ze verstand van wijn hebben en om de wijnliefhebber beter van dienst te kunnen zijn op de site. 
Kortom heb je een onderscheidend concept, neem dan de tijd om dit uit te leggen in een goede online presentatie.
Product video's
Een mooi voobeeld zijn Joe en Brooke van Zappos.com . Deze sneakers fans geven productuitleg voor bijna alle schoenen aan de hand van verkoopfilmpjes. In ieder productfilmpje wordt uitgelegd om wat voor schoen het gaat en voor welke gebruiker deze geschikt is.
Daarnaast is ook Mattel met Barbie een goed voorbeeld van het gebruik van product video's.  
Het doel van product video's is eigenlijk altijd het verhogen van de conversie en dat wordt versterkt door de filmpjes 'clickable' te maken. Mattel probeert op innovatieve wijze de kijkers van het filmpje om te vormen tot kopers.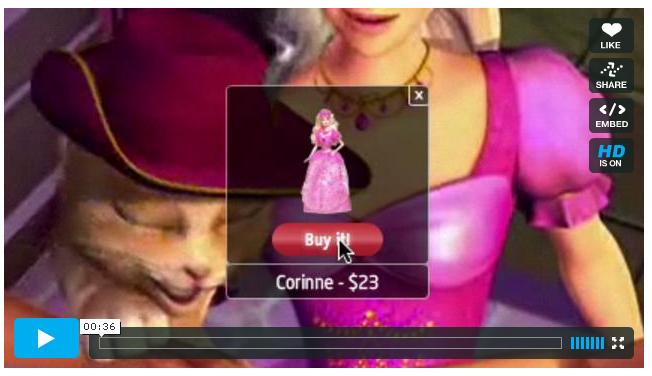 User generated content
Ook gevonden bij o.a. zappos.com is de user generated video. Hierbij wordt de klant uitgenodigd om een product review of een customer testimonial met de eigen camera of webcam te maken. Dit versterkt de productreviews enorm en zorgt ook voor een goede feedback voor de verkoper.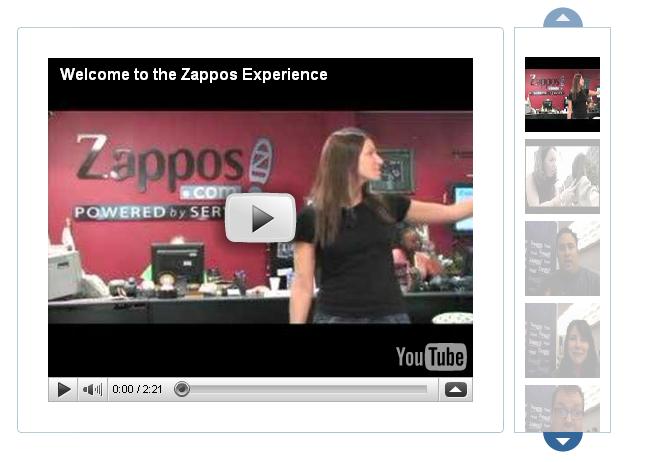 Zelf ook beginnen met product video's?
Wilt u zelf ook starten met product video's? Lees dan eerst onderstaande tips:
– Hou het kort
Hou de video kort en bondig. Dit is natuurlijk afhankelijk van het soort product of video maar probeer te voorkomen dat de video te lang wordt. Voor branded video's kan wat meer tijd worden genomen maar video's die langer zijn dan 4 minuten worden waarschijnlijk niet eens bekeken.
– Kwaliteit van de video
De kwaliteit van de winkel wordt door de bezoeker mede afgewogen op de kwaliteit van de video. Is dit een halfbakken Youtube filmpje dan zal dit een slechte indruk achterlaten op de gebruiker.
– Consistentie
Door bij productvideo's steeds hetzelfde format te gebruiken zal de gebruiker in zijn beleving dit format koppelen aan de website waar deze op wordt aangeboden. Dit is positief voor de merkwaarde van de site wat de klantloyaliteit ten goede zal komen. Als bijvoorbeeld productvideo's van de fabrikant erop wordt gezet zal de gebruiker deze relateren aan het product en minder aan de site.
– Call-to-action
Gebruik de film om een call-to-action op te roepen. Dit zal de conversie flink verhogen.
– Gebruik video's ook in je mailings.
Dit wordt gezien als de e-commerce trend voor 2010 om in mailing een video te plaatsen ipv alleen tekst. (Bron: Getresponse.com, getelastic.com)
– Uitleg van e-commerce video's: http://www.youtube.com/watch?v=1zGiUtc-Sx0
Laat hieronder weten hoe jij online video ziet op de Nederlandse markt!