PRODUCT CONTENT IS KING
If you ask customers what they are looking for when they buy online, 85% would say product information.
A similar percentage of respondents like to see manufacturer and retailer information. Customers also like to see what customers think of the products, in the form of ratings and reviews. This shows how important product data is for different perspectives and audiences. Ultimately, it will determine whether you sell the product or not.
Product information is king.
Just think how you buy products online. The more (online) research you do before buying a product online, the more expensive the product probably is. Did you ever watch an 'unboxing video' on YouTube? Did you view the ratings and read the reviews on the retailer website? Why do we do this? Simple: because we want reassurance that we're getting the best deal.
It's also true that the journey sometimes brings more joy than the destination, or – in our case – the product. Often, getting as much information on the product as possible before buying it is crucial. Customers also appreciate the fuller product perspective (for example, how people are using the product). Some companies even create social awareness around products by connecting them to community-based social platforms like Facebook or Twitter. All of this can be achieved with a PIM. But you can go even further by determining:
when you want to show content
what content to show
to whom
on which device or touchpoint.
This makes the content more relevant and personal to the viewer and places it in the right context.
WHAT? WHEN? WHERE? WHO?
When serving product information to a customer, we need more: more channels, more customer demands, more devices, and more variables.
In a single channel environment, it could be done manually. But with a multi – or even an omni- channel strategy, this becomes almost impossible. The exponential growth of data makes it even more difficult. How do you create the right product content in the right context with all these variables?
Whether you are a B2B wholesaler with 25,000 SKUs, or a B2C retailer with only 1,000 products, the personal factors, device types, touchpoints and other criteria can result in millions of product content variants. Most of these variants can easily be created in a PIM, sometimes with just a push of button. The system gives you access and the best possible variant: what to send, and which device or touchpoint to send it to.
Many factors can determine when you create or update product content; the weather, the seasons, and even the time of day. The PIM knows when your Christmas products are due to go live; it can promote umbrellas when it's raining, and so on.
Companies that enable these features are typically more successful in selling those products.
There's less navigation for the customer, plus higher ranking in SERPs (search engine result page). Just think how many scenarios this feature can apply to. For example, you could create in-store promotions if a customer is in the vicinity of one of your physical stores.
With a PIM, you can decide what content is going where. Image assets can be marked for specific channels e.g. optimised product images will be sent to mobile channels, and high-resolution pictures to desktop or print channels. Creating rules in the PIM can automate these processes. You won't deplete customers' mobile data allowances, and the customer also sees better performance on mobile. People using laptops and desktop computers will be impressed with your content, too. It all improves the buyer's journey, as well increasing your sales.
Use product information to create the best personal experience
For the best personal customer experience, you'll also want personal factors like gender, age, interest, and purchase history. Combining this with device type (mobile, tablet, laptop), location, and past search behaviour will create
a customer experience beyond customer expectations. However, to create this you need to know whom you are facing so you know what content to serve, to create the best CX and the best-selling catalogue. To enable this, you need to integrate with CRM, ecommerce, analytics and POS systems. This last one is important if you own physical stores or have an omnichannel strategy. Creating buyer personas will help setting up your PIM system to facilitate touchpoints as well.
Just imagine, after buying shoes, you get a smart link for a matching belt and the right shoe polish. Even better, the system skips the shoe polish link because you already purchased it. In PIM, you can create these product relations. With a smart ecommerce platform, recommendation engine, or merchandise tool, you can display these product links at the right time, to the right customer, on the right device. You can even go a step further by connecting your PIM with big data pools and make your offers even more personal.
From a business perspective, it is now clear that a PIM can fulfil all three pillars of the Treacy & Wiersema model (image 1). This business model determines how your business differentiates itself from other companies in terms of product leadership, operational excellence, or customer intimacy. Simply put, it tells you how unique your company is. PIM will stimulate the time-to-market, and it
will lower the mark-up costs of products once you reach the break-even point of your PIM investment. All of this will help you improve your product leadership. Efficient data storage, supplier onboarding, reseller portals, and data quality improvements will elevate your operational excellence thanks to automation and clear processes. Customer satisfaction will increase with integrated MDM features, like personal and situational factors enabled in your PIM.
The enriched product content and information that PIM creates will help boost your intimacy with customers as well.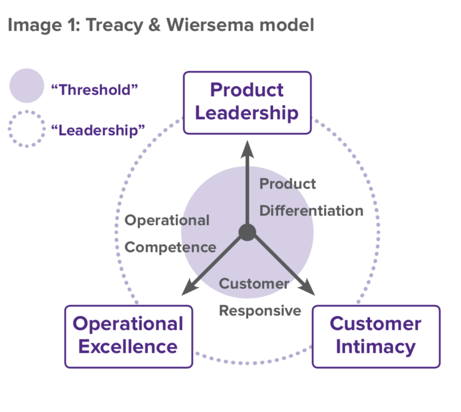 Lees het gehele rapport, download deze op hier